Description
Car: VW Passat Mk 5

Chassis: 3C/B6

Year: 05-10

Engine: 1.6 TDi, 1.9TDi, 2.0TDi

Fits: Manual & DSG. Saloon & Estate. 2WD Only



Stance+ Street Coilover kit Features:

Height adjustable from 30mm-80mm (most applications).
25% Up-rated shock absorber damping.
Short heavy duty hardened chrome piston rods.
Firm yet comfortable ride quality, suitable for fast road or mild track day use.
Coilover springs are manufactured from high tensile, chrome silicon steel, shot peened for strength
Coilover springs are powder coated for weather protection.
Helper springs are used (where necessary) to prevent spring dislocation when the car is jacked up.
Built in bump stops for durability.
Dual locking rings (most applications) anodised for weather protection.
Powder coated Coilover Bodies​ ​Shortened drop links may need to be ordered separately where needed​.​
24 Month warranty.
Customer Reviews
08/04/2020
Gee
United Kingdom
Great quality with exceptional customer service.
After many many hours of searching for the setup that would suit my needs for my Passat B6 Estate I settled on this kit, Placed order and got an Email the following morning stating there would be a delay and was I happy to wait, I said yes and was kept informed of every detail of the order from then until confirmation of delivery, excellent. The actual kit arrived well packaged and seem of good quality, fitting was simple and everything lined up/slotted in as it should, car sits exactly how I wanted it and the ride whilst slightly firmer than the sport standard is comfortable enough for daily use. I can't comment on long term quality as just got them but I honestly don't expect any issues. My only "Complaint" is that there is only one C spanner with the kit and its not a fixed size so adjusting the height is very awkward using it, but easily solved by getting a set of fixed c spanners.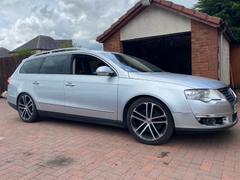 Hi, Thank you for your review. Just on the one C spanner supplied - This is to avoid over tightening of the lock rings as the only need to be nipped up. If over tightened they will be very hard to adjust again if you ever wanted to adjust the height again.
Payment & Security
Your payment information is processed securely. We do not store credit card details nor have access to your credit card information.