Description
Stance+ Street Coilovers 

Part Code: SPC01094



Transporter T5 2.0, 3.2V6, 1.9TDi, 2.0TDi, 2.0BiTDi, 2.5TDiT26/T28/T30.

2WD & 4WD Models. Excluding T32

Commercial Models

Years: 03-15 [70X/D]


Front Lowering: 30-95mm


Rear Lowering: 30-80mm


Front Max Axle Weight: 1710kg



Rear Max Axle Weight: 1720kg



Warranty: 2 Years



Height adjustable front and rear. Height adjustable front and rear. Front suspension uses clamp type fitting.

Top mounts not included, uses existing top mounts. Bump stops may need to be shortened. Front wheel spacers may be required.



IMPORTANT

For safety reasons, coilover kits should be fitted by a qualified vehicle mechanic/technician.

Coilover collar threads should be copper greased prior to fitting to prevent seizure.


Customer Reviews
10/21/2020
Christopher G.
United Kingdom
10/21/2020
Andrew S.
United Kingdom
T5 Stance Plus
I couldn't justify spending loads on changing my suspension and after seeking advice myself I chose Stance Plus. Absolutely unbelievable to my vans looks and it drives superb, no bounce, great cornering and it's not a hard ride. I'm running 255/35/20 Kumho tyres. I didn't make any mods to the suspension just fitted new drop links, top rubbers and bearings. Very impressed with them.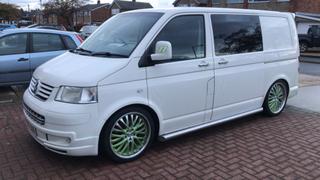 10/09/2020
D M.
United Kingdom
Quality kit
Great experience ordering, delivered quick. Ride is great and fully adjustable. Mccdubs
09/30/2020
Simon H.
United Kingdom
09/29/2020
Wayne G.
United Kingdom
Coilovers
Very good product excellent service
Payment & Security
Your payment information is processed securely. We do not store credit card details nor have access to your credit card information.